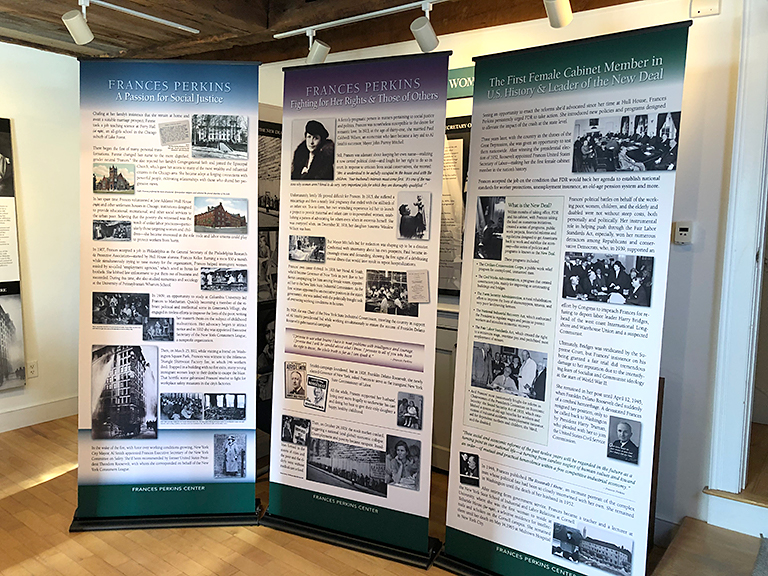 TRAVELING EXHIBIT & DOCUMENTARY
"Frances Perkins: The Woman Behind the New Deal" is a condensed version of the exhibit currently on view at our Center in downtown Damariscotta, Maine. Due to our generous foundation and private support, specifically the Maine Community Foundation, Maine Humanities Council, Historic New England, Katharine J. Watson, and Newman's Own Foundation, we currently can provide this opportunity to your institution at no fee.
The exhibit is comprised of 6 panels, each measuring 3 feet wide and 7 feet tall. It is designed for an organization to use as many or as few as desired for display.
Also available is our new 30 minute documentary, Highlights from the Life and Legacy of Frances Perkins..  Each spring we teach a course at University of Southern Maine's Osher Lifelong Learning Institute and each fall at Midcoast Senior College in Brunswick called The Life and Legacy of Frances Perkins.  Our class typically spans six weeks with each class hosted by a different faculty member speaking to a part of Perkins' life and career.  We wanted to find a way to share the best of our course with students outside of Maine and so the idea of the documentary what hatched.
If your organization is interested in hosting our traveling exhibit or would like to view our documentary, please contact: info@francesperkinscenter.org or by calling 207-563-3374.